Our Story
About us
AccelerCommTM was founded by Rob Maunder; whose vision during his tenure as a professor at Southampton University, was to establish a company centered around his wireless communications PhD research team. Since its inception, AccelerCommTM has been dedicated to advancing the field of wireless communications and today we continue to grow our UK based centre of excellence - our hub for semiconductor IP development.
Our purpose is to deliver innovative, ground-breaking technology to enable cost effective, market leading digital communications that achieve robust, error resilient, ultra-high performance. AccelerComm'sTM commitment to excellence is driven by our vision to accelerate the development of the next generation of wireless communications worldwide.
Our patented, market-leading IP products and solutions for 4G and 5G are configurable for quick, high-performance implementations across a wide range of applications across Cellular, Defense and Satellite markets. Our channel coding (or Forward Error Correction (FEC)) solutions overcome the effects of noise, interference and poor signal strength that would otherwise limit the speed of wireless communication. We do this by providing thought leadership, working closely with industry bodies, research institutions and customers to ensure the best algorithms are selected and that we develop IP that's optimal in performance for any given communication system.
As 5G NR channel coding experts, it's our vision to become the number one supplier of channel coding, demodulation and channel estimation solutions. Through our dedication to delivering best-in-class hardware and software technology, we aim to provide unmatched performance in terms of throughput, latency, and efficiency at the system level. As we continue to grow, we are committed to propelling the evolution of 5G, Signal Processing IP, and other wireless communication technologies across the globe.
Testimonials
AccelerComm is providing us with Acceleration IP on our Telco Accelerator cards. They are an excellent partner. The one thing I can tell you about AccelerComm is the high quality of their products. The out of the box experience has always been superb.

Very professionally done, very professional team, easy to work with. They're great partners.
AccelerComm has been a key partner in providing that flexibility in order to meet the performance requirements we need for our customers.

The relationship has been excellent. Because of the nature of our business, where we customise our solutions very specifically for our customers, there's been a lot of engineering back and forth between ourselves and AccelerComm. And so quite often, we will need to tailor both their and our solutions to the specific requirements of a given customer.
AccelerComm is a great partner of ours. We deliver together the IP for the FPGAs. They deliver, they support us and create for us opportunities in the market.

We love Rob. B. He is supporting us with both opportunities and technologically. So a great experience and a great company to work with.
Our expert team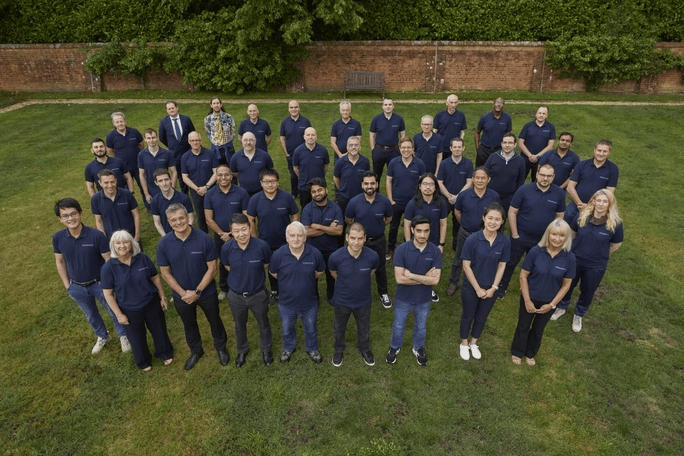 Our leaders
Our investors
Our research, to drive the development of high-performing wireless communications in an increasingly connected world, attracts funding from companies invested in our success and gives us access to a greater network of experts. Our current investors are:
IQ Capital
Investing in many sectors including machine learning, AI, robotics, advanced engineering and materials as well as data-focused propositions based on disruptive algorithms, IQ Capital love nothing more than partnering with exceptional thought leaders to push the frontiers of deep-tech and help teams reach their global ambitions.
Bloc Ventures
With a seat on our board and founded by industry veterans from Arm Holdings and Vodafone, Bloc Ventures is a permanent venture capital company that is passionate about supporting and growing deep technology businesses across Europe.
IP Group
IP Group works closely with partner Universities to evolve great ideas into world-changing businesses. They achieve this by systematically helping to create, build and support outstanding intellectual property-based companies.
Parkwalk
Parkwalk is the largest growth EIS fund manager, backing world-changing technologies emerging from the UK's leading universities and research institutions. With £500m of assets under management, it has invested in over 160 companies across its Parkwalk Opportunities and Knowledge Intensive EIS Funds, as well as the award-winning enterprise and innovation funds Parkwalk manages for the Universities of Cambridge, Oxford, Bristol and Imperial College. Parkwalk invests in businesses creating solutions to real-world challenges, with IP-protected innovations, across a range of sectors including life sciences, AI, quantum computing, advanced materials, genomics, cleantech, future of mobility, medtech and big data.
Swisscom Ventures
Swisscom Ventures is the venture capital arm of Swisscom AG, the leading telecom and ICT provider in Switzerland. Since 2007, Swisscom Ventures has invested in over 80 technology companies from its offices in Switzerland (Zurich, Bern and Lausanne) and the USA (Silicon Valley). Swisscom Ventures invests in 8-10 new companies every year for a total volume of $50-100m p.a.
Fancy joining us?
We are always on the lookout for top talent from within our sector to join our growing team. Please view our careers page and get in touch for a chat or to find out more about working with us.
View careers