O-RAN is a term that refers to the O-RAN Alliance, an industry specification group working towards reshaping mobile networks to be fully open and interoperable as well as more intelligent and virtualized. However, the hyphenated term O-RAN can be easily confused between two other similar but distinctly different terms: Open RAN and OpenRAN.
Open Radio Access Network, or "Open RAN" is a general term that refers to the trend in wireless telecommunications to separate RAN hardware and software and create open interfaces between them. "OpenRAN" on the other hand – without the space in between – refers to a project group operating within the Telecom Infra Project (TIP) industry group focused on the deployment and execution of Open RAN. It was originally formed in 2016 by Facebook to develop disaggregated and interoperable 2G, 3G, 4G and 5G NR RAN solutions.
What is a RAN?
Before we go much further in explaining the relevance and importance of O-RAN for mobile telecoms, it may be helpful to first take a step back and define what a Radio Access Network (RAN) is.
A RAN is the part of a wireless telecommunications system that connects User Equipment(UE) such as mobile phones and other wireless devices to its mobile network through radio access technology. For the technology to work, RAN elements such as a base station and antenna, are needed to cover a specific area. These local nodes are then linked to the rest of the network via fibre or wireless backhaul.
The land area to be covered is split into units called "cells", each of which is served by one or more radio transceivers. Since the advent of RANs from first generation GSM technology to the current fifth generation New Radio (5G NR), a lot has changed. The demand for video and audio streaming and much higher numbers of connected devices per cell, including mobile phones, computers, vehicles, drones and IoT devices, requires lower latency and reduced overall network bandwidth. Performance comes from distributing processing power at the network's edge.
The 5G NR radio interface supports multiple radio frequency bands, including millimeter wave (mmWave) bands that enable gigabit-per-second download speeds, albeit with reduced area coverage compared to those of previous generations.
Why do we need Open RAN and what does it consist of?
Open RAN architecture offers 5G network service providers more choice, flexibility and agility. Older generation RAN architectures up to 4G were based on simple building blocks made up of proprietary closed interfaces between the radio and baseband units (BBUs). This made a service provider obligated to use one specific vendor for all its RAN hardware and software. It was therefore impossible to mix different components to achieve an optimal solution for their needs, and very costly to change vendors, as this would mean replacing all the components to complete the switch.
5G NR logical nodes began to be split between Central Units (CUs) and Distributed Units (DUs) to bring about more system flexibility and scalability. There is a single CU for each "next-generation node B" (gNB or gNodeB), but one CU can be in control of more than 100 DUs, and as each DU supports one or more cells, one gNB is easily able to control a multitude of different cells at the same time.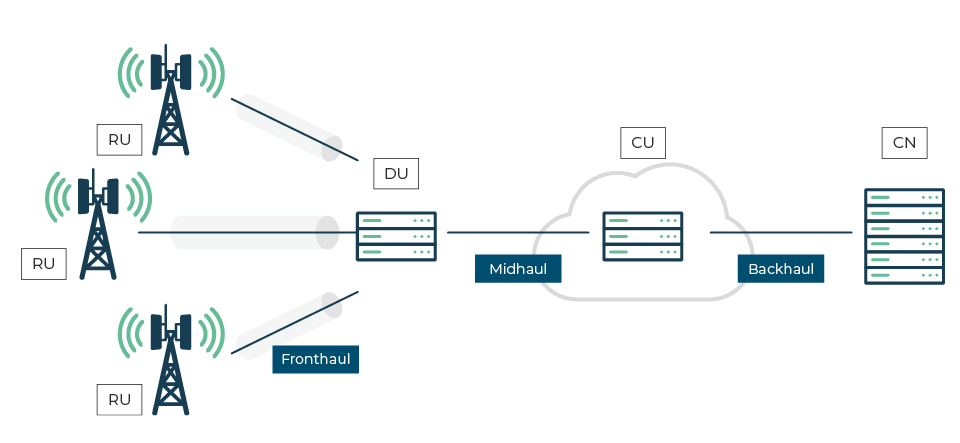 Evolving Networks: 5G network elements from a functional split perspective, are made of Radio Units (RU), Distributed Units (DU) and Control Units (CU). Based on deployment methods, these could be distributed, centralized and virtualized.
This split architecture between CUs and DUs would allow better performance for the increasing demands being placed on mobile networks by the sheer number of devices and the latency tolerances required for data-heavy applications such as gaming, streaming and software-over-the-air (SOTA) updates.
Network designers soon realised that the most cost-effective network deployments and upgrades would only truly be realised if the hardware and software were made interoperable. Software-based RAN Intelligent Controllers (RICs) also enable new functionalities for operators such as analytics, network automation and network slicing.
Various other sub-types of O-RAN architecture exist, including Centralized RAN (C-RAN), which moves the BBU to a centralized location, leaving the cell site with only the antenna and the RRU, and Virtualized RAN (vRAN), which decouples the software from the hardware by virtualizing the network functions.
As an agile approach to RAN deployment, vRAN offers better operational efficiency and much more flexibility to meet the demands of the 5G era. vRAN and O-RAN often go hand-in-hand with their complementary objectives and designs.
Why was O-RAN created?
Primarily focused on the creation and enforcement of standards, the O-RAN Alliance was started in 2018 by five key industry players worldwide, and has since grown into a powerful group of around 200 mobile operators, manufacturers and academic partners. The community defines next-generation RAN infrastructures, empowered by its two main principles of intelligence and openness.
The new O-RAN standards aim to enable a more competitive and vibrant RAN supplier ecosystem, prioritizing innovation to improve user experience. By reshaping the industry towards more efficient virtualized network elements, white-box hardware, and standardized and open interfaces, O-RAN based mobile networks will improve the overall efficiency of mobile operators' RAN deployments and operations.
High Phy in RAN: AccelerCommTM is developing a complete High PHY solution that can be integrated into a RU or a DU, based on the functional split being deployed.
Channel coding contribution and expertise
AccelerComm joined the O-RAN Alliance in December 2020 to bring its channel coding experience to reduce latency and increase spectrum efficiency for open 5G networks. AccelerComm is active in the O-RAN specifications in particular Working Group 6 Cloudification and Orchestration Workgroup - providing expertise in the Acceleration Abstraction Layer designs.
AccelerComm's product suite includes a complete channel coding IP solution that delivers reduced latency and power consumption for the most critical components of a 5G network, while meeting all the throughput and error correction targets. AccelerComm's IP packages can be quickly integrated and flexibly delivered for use in application-specific integrated circuits (ASICs), programmable hardware such as field programmable gate arrays (FPGAs) or as software solutions, covering all use cases within current standards.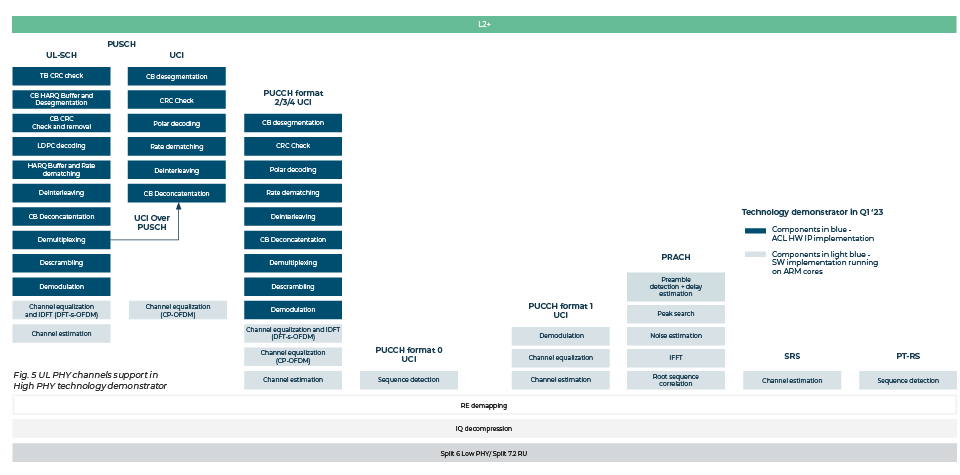 Commercial availability: The AccelerCommTM High PHY solution implements the 3GPP functionality of the 5G NR uplink PHY channels. The HW IP blocks are implemented as per the latest/relevant 3GPP standards, O-RAN & SCF (nFAPI) specifications.
In September 2021, AccelerComm announced it had developed a 5G O-RAN standards-compliant base station accelerator based on Silicom's N5010 platform. The project, developed for a 5G network infrastructure vendor, combines technology from the two companies to deliver a solution that increases reliability while reducing latency and power consumption for the most critical components of the 5G physical layer.
Just a month later, the company announced that it had successfully demonstrated a fully compliant O-RAN AAL (Acceleration Abstraction Layer) Forward Error Correction (FEC) product for the Xilinx Telco Accelerator cards. This carrier-grade product enables AccelerComm's high performance 5G NR LDPC encoding and decoding IP solutions to be rapidly and efficiently used as hardware accelerators in industry standard servers across a PCIe bus using the O-RAN AAL interface.
The AccelerCommTM LDPC solution for Xilinx cards is available now, offering vastly reduced time to market for products with true 5G NR functionality.
Contact us to understand how AccelerComm will supercharge your O-RAN deployment with our complete High PHY solution.
Back to News & Media