Recently, Vodafone announced collaborative arrangements with companies developing 5G solutions, such as AccelerComm in the in the evolving Open RAN ecosystem.
Southampton, UK - 15th December 2022
Vodafone plans to further support new vendors in the evolving Open RAN ecosystem by helping specialist chipset manufacturers secure a foothold in the provision of next-generation networks.
Open RAN Chips
AccelerComm is one of the companies pioneering the development of specialised silicon IP for Open RAN. Known as 'accelerators', these advanced algorithms are critical in being able to apply a 5G technology called Massive MIMO to Open RAN, giving it the capacity to support thousands of users from a single mast.
Network traffic can be more effectively processed because these accelerators have 'dedicated network aware silicon.' This means that they are purposely built for mobile base stations, performing better than general purpose silicon chips with the added benefit of lower energy consumption. In future, Vodafone predicts that they will become a significant contributor to its 'green' agenda of achieving net zero by 2040.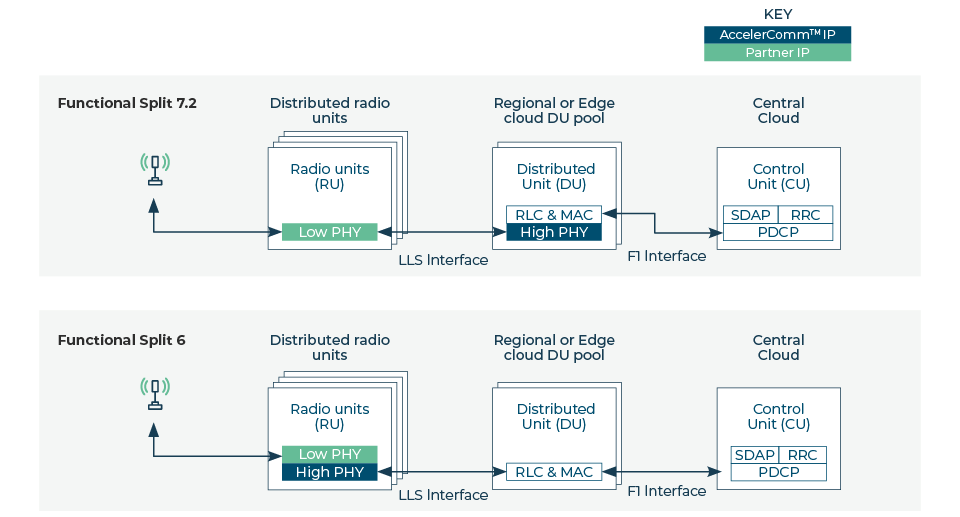 High Phy in RAN: AccelerCommTM is developing a complete High PHY solution that can be integrated into a DU,
Massive MIMO might sound like the bigger cousin of a Pokémon character, but there's nothing cartoony about the way it increases the number of user connections for a single antenna. This significantly improves the performance for customers when using their handsets in a busy area such as shopping centres and business parks, without the need for multiple new masts.
Alberto Ripepi, who will become Vodafone Chief Network Officer from the start of 2023, explained: "With plans to have 30% of our European networks running on Open RAN by 2030, we aim to open the door to more smaller companies to drive innovation, whilst strengthening the supply chain."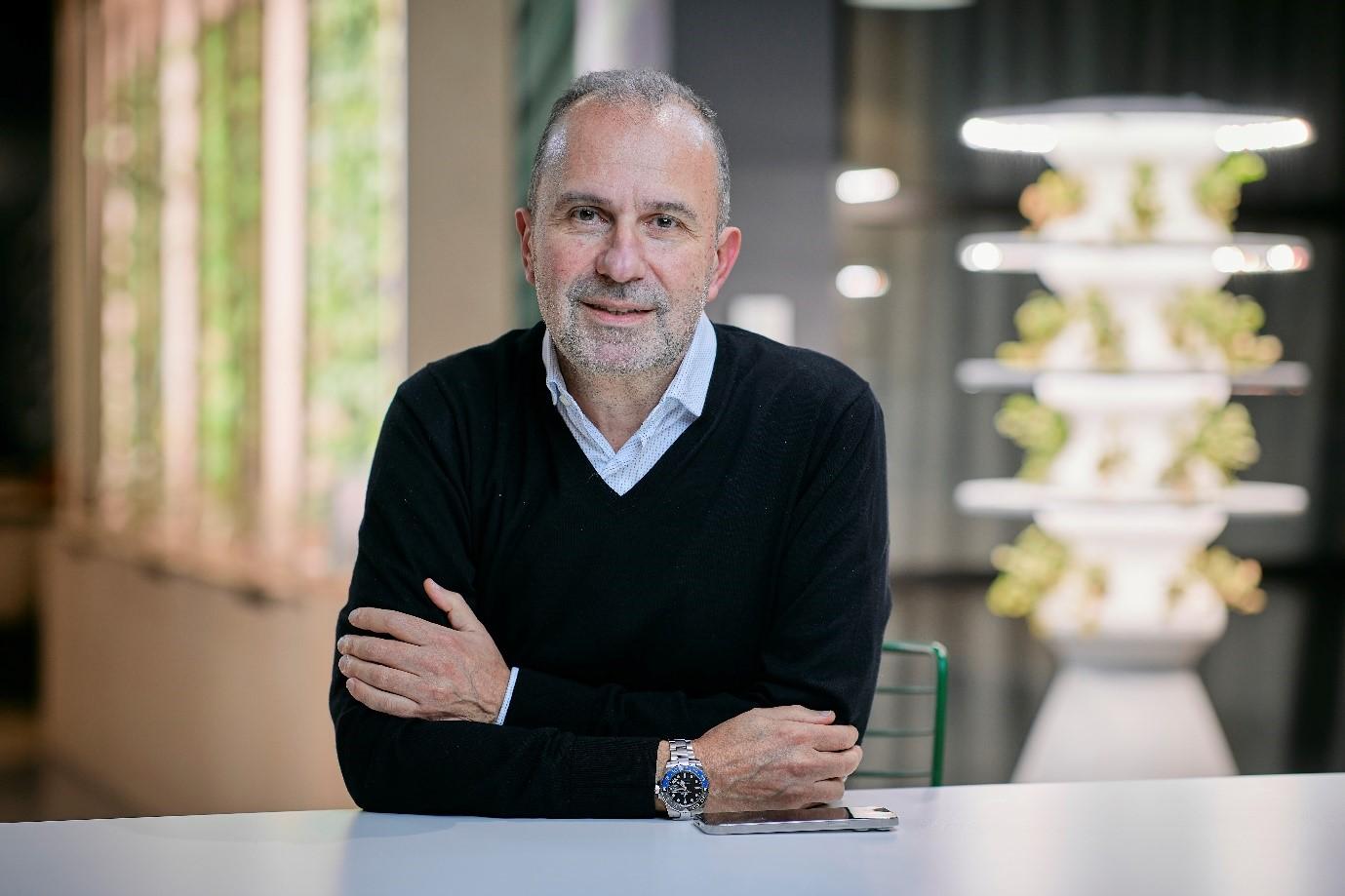 Alberto Ripepi becomes Chief Network Officer of Vodafone from the start of 2023
Accelerator Demo at Mobile World Congress (MWC)
At the start of 2022, Vodafone opened a dedicated facility in Málaga, one of its new European innovation centres, to test accelerators. Vodafone's engineers are now putting these through their paces in time to show how Open RAN can deliver features, security, and performance on a par with traditional mobile radio networks at MWC, early next year.
For Vodafone, the implementation of accelerators will facilitate the next step in the wider deployment of Open RAN and help the technology to branch out from its rural roots into highly populated towns and cities.
Simply put, accelerators have the potential to take on much of the heavy lifting calculations currently performed by standard central processing units (CPU) and thereby speed up the processing of an array of complex network tasks such as converting voice and data into radio waves. The trick is to ensure today's different flavours of RAN software can seamlessly work across multiple vendor accelerators.
"Bringing in new vendors will ensure Open RAN sticks to its principles," Alberto added. "In the same way Linux adopted an open-source approach to break the stranglehold of proprietary operating systems, the democratisation of mobile networks will be driven by start-ups and smaller vendors."
This year, AccelerComm won "Best Digital Tech Breakthrough Award for Companies with Under $10 Million Annual Global Revenue" at the GLOMO Awards 2022 in MWC Barcelona.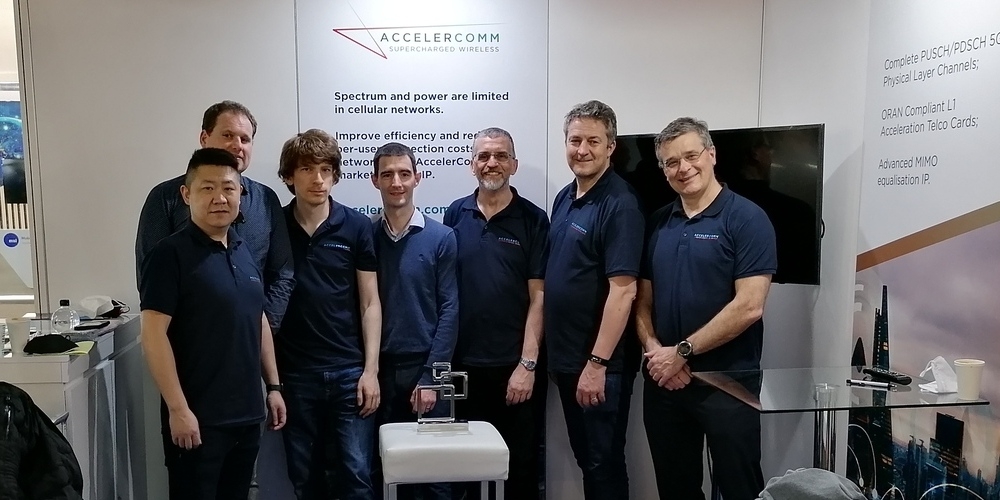 AccelerComm with their 2022 GLOMO Award at Mobile World Congress Barcelona
"An innovative solution that comes back to the heart of radio communications: the physical layer and spectrum efficiency. Undoubtedly a key element of the OpenRAN architectures which will support its success going forward," said the GLOMO Award Judges.
The Award, which recognizes AccelerComm for 5G physical layer IP for OpenRAN that Maximizes Spectral Efficiency was announced during a virtual ceremony co-hosted by Sasha Twining and Justin Springham from Mobile World Live and streamed to audiences around the globe via LinkedIn.
The company's award winning 5G Physical Layer IP For Open RAN is a carrier-grade solution that increases spectral efficiency and reduces latency in an Open RAN 5G communications system AccelerComm's IP packages can be quickly integrated for use in custom silicon (ASIC), programmable hardware (FPGA) or as software solutions.
"While much of the focus in Open RAN to date has rightly been on interoperability, it also requires optimization in order for it to deliver the full benefits of 5G," said Tom Cronk, CEO of AccelerComm. "We are delighted to have received this award which underlines the importance of spectral efficiency and performance to the industry as a whole. I would like to thank the judges, our partners and customers and the whole AccelerComm team for making this happen."
Start-ups are crucial
AccelerComm with an openly licensable IP model and IP designed for advanced 5G networks is a company to keep an eye on. Born out of Southampton University in the UK, it is now focused on improving the performance and spectral efficiency of Open RAN based networks, while ensuring the interoperability of hardware and software.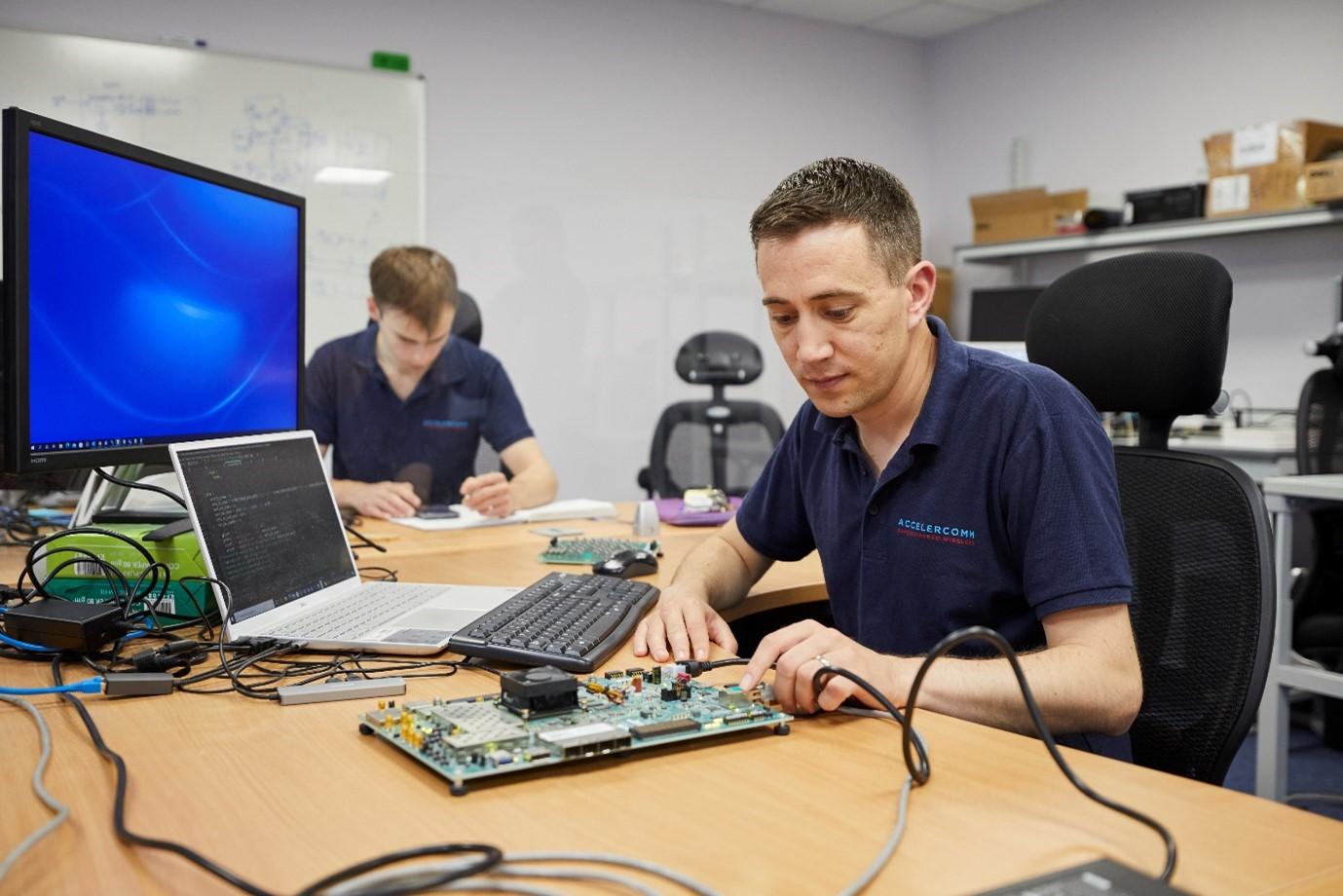 AccelerComm Engineers
"OpenRAN is key to transforming networks from pure communications systems into platforms for innovation. This is why we should absolutely encourage and engage with smaller companies and start-ups as these are critical for accelerating innovation and technical diversity," concluded Alberto.
Vodafone will use its presence at MWC 23 to highlight the company's commitment to delivering Open RAN solutions through its Málaga silicon R&D centre, and its work with new partners to further enhance the services it delivers to customers. In much the same way Linux is the operating system of choice for smaller companies developing Apps, Open RAN will provide access to the relatively untapped world of mobile networks.
Back to News & Media