Physical Channels for 5G NR
Introduction
The 5G physical channels are used to transport information over the radio channel. They have the transport channels mapped into them but they also include various physical layer data required for the maintenance and optimisation of the radio communications link between the UE and the base station such as modulation, reference signal mapping, transmit power and coding schemes.
The physical layer channels defined in the standard for downlink are:
Physical Downlink Shared Channel (PDSCH)

Physical Downlink Control Channel (PDCCH)

Physical Broadcast Channel (PBCH)
The physical layer channels defined in the standard for uplink are:
Physical Random Access Channel (PRACH)

Physical Uplink Shared Channel (PUSCH)

Physical Uplink Control Channel (PUCCH)
AccelerComm can offer a complete integrated L1 which controls these channels however due to the wide range of supported performance points and applications for 5G, many customers may prefer to implement their own 5G modem offering key differentiation of their own. To support this activity AccelerComm licences the hardware components of the L1 channels as IP blocks for optimal power and performance based on standard interfaces and within the definition of 3GPP. Often some of these channels are controlled by software implemented in the L1 or above
AccelerComm product mix
Below is a diagram showing the integrated components to the Channel IP: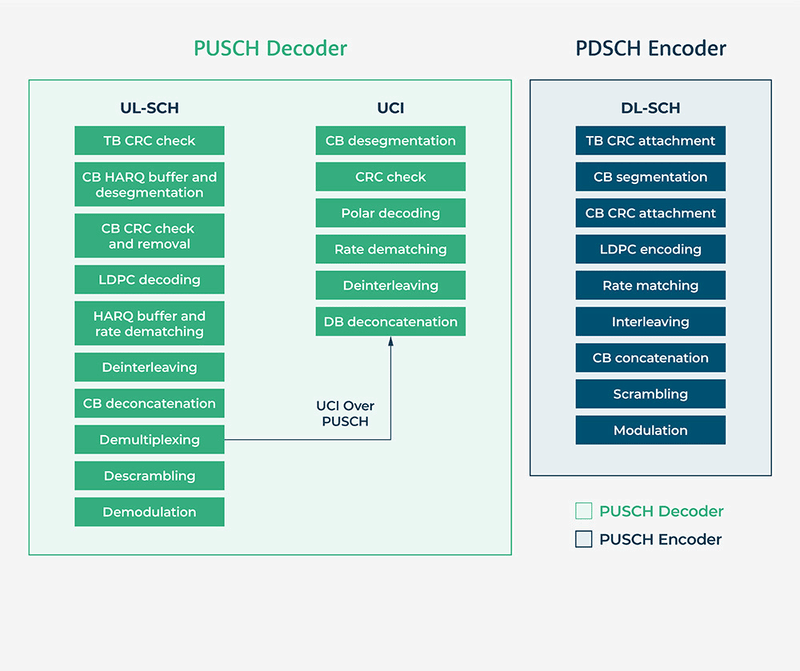 Testimonials
AccelerComm is providing us with Acceleration IP on our Telco Accelerator cards. They are an excellent partner. The one thing I can tell you about AccelerComm, is the high quality of their products. The out of the box experience has always been superb.

Very professionally done, very professional team, easy to work with. They're great partners.
AccelerComm has been a key partner in providing that flexibility in order to meet the performance requirements we need for our customers.

The relationship has been excellent. Because of the nature of our business, where we customise our solutions very specifically for our customers, there's been a lot of engineering back and forth between ourselves and AccelerComm. And so quite often, we will need to tailor both their and our solutions to the specific requirements of a given customer.
AccelerComm is a great partner of ours. We deliver together the IP for the FPGAs. They deliver, they support us and create for us opportunities in the market.

We love Rob. B. He is supporting us with both opportunities and technologically. So a great experience and great company to work with.