AccelerComm Optimised Channel Coding IP for Satellite communications.
Do you need to improve the strength of your error correction (to overcome the long transmission range of a satellite)?

AccelerComm's Polar, Turbo and LDPC decoders are fully flexible and can be optimised to give stronger error correction performance

Is power consumption a concern?

We have designed systems for ultra-low power.
Challenges aggregating data from multiple sources?

AccelerComm's decoders have very high throughput without having to run multiple decoders in parallel, this will simplify data aggregation

Are you looking to reduce the chip area?

AccelerComm's patents enable decoder implementations to have much better hardware performance over alternative coders when very strong coding (low coding rates) is required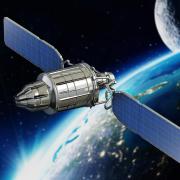 In market 5G NR test equipment using Accelercomm Polar IP
Spirent communication have partnered with National Instruments to create an extensible 5G NR test solution