Industry use cases
Spanning across Cellular, Satellite and Defence markets, our freely downloadable studies showcase the results possible from implementing AccelerComm technology in specific industries where network performance is being pushed to the limit.
These use cases explain the industry scenario/model for the study and show the impact of AccelerComm physical layer algorithms on this model, together with the resultant OPEX/CAPEX savings.
Smart Ports Use Case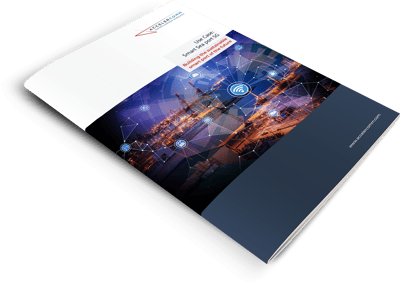 Building the sustainable smart port of the future
By introducing 5G technology into processes and ecosystems, the Hamburg Smart Sea Port testbed implements real-time control and monitoring using always connected sensors and devices. From applications such as automated ground vehicles (AGVs) and remote-controlled cranes, to CCTV cameras, body worn cameras, sensors for equipment, shipment, and environmental data - that's a lot of data to send over wireless networks all day, every day.
DOWNLOAD USE CASE
Smart Factory Use Case
Building the connected factory of the future
In factory environments, mobile robots interact with each other and with operators, and are used to execute multiple operations – assistance in work steps, collaboration with other robots and transport of goods, materials and other objects. The mobile robots in this example contain two cameras, one for continuous high-definition video stream to a remote controller and a second one, which sends a video stream or image in predefined positions or actions. This is high network demand requiring high reliability.
DOWNLOAD USE CASE
Further information
AccelerComm offers complete physical layer solutions for high performance networks. Here's why you should work with us:
We have unrivalled efficiency and serve more users, to go further, faster

Our products have optimal configruability, offering differentiation through flexible software-configurable 5G networks

We are research-led with deep knowledge and technical excellence. 20% of our staff are PDH research fellows
With more than 30 wireless accelerator products and 50+ granted and pending patents, we are reliably ahead
PxSCH
For datasheets for our PxSCH product, including bloc diagrams, performance graphs and other KPI comparisons...
View Product
LDPC
For more about our configurable LDPC encoder and decoder with multiple algorithm support for optimal BLER performance...
VIEW PRODUCT
Polar
For more about our Polar architecture, designed to provide excellent error correction performance within the minimum area...
VIEW PRODUCT
Contact us
We are transforming the next generations of wireless communications with innovative, world-leading IP that delivers ultra-high performance and error resilient signal processing. Let's connect to discuss how our channel coding solutions can help your business thrive today and into the future.
Get in touch